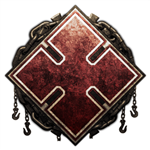 V O I D is a clan led by ISOLAYTOR, and is also known as the "Locust Horde," based off the game Gears of War. Their base is called the Labyrinth of Despair (often shortened to Labs), and features a bomb cart that must be pushed by the raider team into the V O I D spawn to achieve victory. It is considered one of the most unfair bases in the clan world. It's academy group is named H I V E, and people wishing to join V O I D must first make their way through H I V E. Their system of entry is similar to that of the Vaktovian Empire.
Despite their small size, large propaganda campaigns by ISOLAYTOR on the Clans & Guilds sub-forum on ROBLOX has significantly increased public awareness of his group. It's supposed strength is regularly over-exaggerated.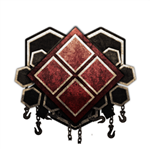 Additional information
Vaktovians who request to join V O I D will be accepted without the need to pass through, as in the case with Gargix. While this presents a potential security threat to V O I D, it is more likely for propaganda against VAK, as well as to appeal to Vaktovians to leave for an instant rank in V O I D.
Hostility with Vaktovia
During the summer of 2014, V O I D and the Vaktovian Empire became hostile. It was added to the group ban list for Vaktovian soldiers. V O I D declared war on Vaktovia, but the war was postponed for internal issues in VAK to be corrected. By the time VAK was ready, ISOLAYTOR then gave out that he did not want to wage war on VAK anymore. However, with Gargix's defection and the leakage of some recent Vaktovian technology and bases, ISOLAYTOR then threatened to release SMO 2.0 to the public unless VAK answers his challenge to war. The thread stating this was removed for blackmail, and ISOLAYTOR received a ban of several days. VAK saw the leaking of their bases and tech as a low threat, and ignored ISOLAYTOR's blackmail.
Recently, ISOLAYTOR again declared war on Vaktovia and both sides raided each other. However, with the Labyrinth of Despair being nearly impossible for raiders to win at, Vaktovia would have no chance at winning the war, and would essentially be giving the victory to V O I D if participated with Labs. Both SMO and Labs were shutdown, and negotiations continue to this day.