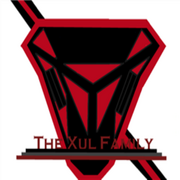 The Xul family, a family in the Vaktovian Empire, was the biggest family in Vak, before being shutdown due to inactivity. Vaktovian Army Corp soldiers could join. The ranks from lowest to highest were Brothers and Sisters, Fighter, Elite Fighter, Xul trainer, Xul Guards, Xul Commando, Xul Captain, Xul Council, and finally, the leader of the group, Vextrus Xul. (His account name is rsmithnvm). This group had t-shirts on sale that are shown as Xul Family pins, worn to show you are in the Xul family.
Reborn
The Xul family was reborn after the name was carried on. For a while it was not a group, though with permission from the leader of the family, AustinWinfree, Vaktovians could use Xul as their last name. The Xul family was a full, functioning Vaktovian family, owned by AustinWinfree, but had once more died out through his leaving.
Community content is available under
CC-BY-SA
unless otherwise noted.