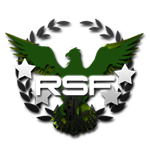 Roblox Special Forces or 'RSF' is a respected clan currently led by fruitbox. The group currently has almost 35,000 members yet 31,000 of those members are still Recruits.
Overview
The clan is fairly organized and has several divisions to it's name as well as a teamspeak server. Unfortunately, the clan has a tendency to make unfair bases, giving their troops powerful explosives to fend off from Raiders who have your average rifle.
Vaktovian Conquest
In early 2015, RSF and four other clans fought in a conflict know by some as the Vaktovian Conquest. However, three of the five involved clans refused to fight back and where quickly decimated by Vaktovians, which included RSF. A couple of raids where held against RSF despite their denial of war, most of which resulted in Vaktovian victory. The raids against RSF were rage inducing due to the heavy use of unfair weaponry on the defender's team.