Official incursion centre of The Vaktovian Empire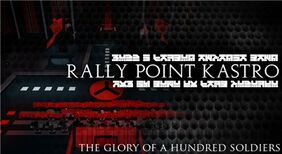 During the aftermath of a Vaktovian crusade, Captain Lytarr captured the command of an enemy space satellite. Later deemed adequate of becoming a rally point, Captain Lytarr assembled Vaktovia's finest architects as he set out to repair the remnants of the fragmented satellite. 
"Forged in fire, blood and anguish"
It took the crew three months of meticulous planning and intense labor under precise specifications by the Empire. Upon completion, Captain Lytarr presented the rally point to General Bektor as a birthday present, under the alias 'KASTRO' - Kharnerus Astronomics.
Credits
Gargix - Project Manager / Builder
DominiumHex - Head Builder
BishoBlox / Bektor - Project Overseer
Opacor - Lighting Staff / Scripter
Aqous5 - Lighting Staff / Scripter
Domeboybeene - Builder / Artist
Shadowblacksmith - Builder
AshTheArbiter - Builder
Siprox - Scripter