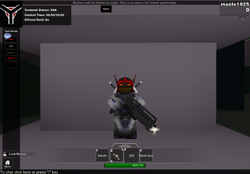 Maste1925, also known as 'Xurath Aurza Kratek', is a Vaktovian Private that has been in the Empire since October 19 2013.
Name, Family and History
The account 'maste1925' was made in late 2008 (11/30/08) . His name wasn't spelt wrong, it wasn't supposed to be 'master1925', although some people mistake the '1' in his name for an 'r'. He belongs to the Kratek family, lead by therealgallade130, and has been in it since he was a VAC Stage 3, hence the 'Kratek' at the end of his name.
He was one of the first people to join the Vaktovian Ascension Core and attended the first ever training.
He was one of the first 10 to be promoted to Stage 2, until he went off to Turkey for a Month and a half for a holiday. When he returned, people were already Stage 5/4's, some even in the Empire. He worked hard to get promoted, and got Stage 3 in a week or 2 after returning from his holiday. He was stuck on Stage 3, with a number of other people, until the 'Purge' took place, done by Arcaneclone, and he was promoted to Stage 4, whilst other got demoted for inactivity. When he was Stage 4, he didn't stay at that rank for too long, as his teamwork was already good enough, and got promoted in only a week to a Stage 5. He remained a Stage 5 for a week or 2, waiting for his mentor to be assigned, which turned out to be Rangerwield. 
Ascension into the Empire.
After being assigned his mentor, with his peer Rolliply, they were mentored for a week before getting a message saying that they have passed the mentoring session and can now join the Empire. That day was October 19th of 2013. He now remains as a Vaktovian Private, hoping to become a Captain or a Mentor one day.
Glory to Vaktovia!