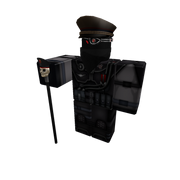 VeitMyani was a Vaktovian General, having been well known and active, and was notable for his endurance for Vaktovia. He has done many spectacular feats, including participating two seperate 14 hour raids for the Empire, and holding the bomb at TGI's base with only one other VAC against the rest of the server of TGI and TAG. He is a member of the Vaktovian Vanguard Unit.
His previous name was Jess106 from when he was a VAC to Colonel.
He joined the Army Corps August 2012, and was accepted into the Vaktovian Empire on July 17th, 2013.
Titles:
General
Commander of Vaktovian Recon Unit
Operative of the Obsidian Order
Owner of the Myani Family inherited by ProEvil123 when he retired.
Head of recruitment
Uniform
Jess106 is known for always wearing his Vaktovian uniform, ever since his career started. He claims to have only taken it off twice.