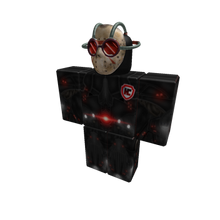 Zynatric Jasonix Zastec retired as a Private of the Vaktovian Empire. As a Stage 5 VACCINE, he was mentored by Corporal Parixity, who did his best to ensure his readiness for the Empire.
His brother-in-arms is Private Dyabolic of The Vaktovian Empire. FusionBurst joined the core originally in June 2014 as "thejoker516" and made his way up the ranks up until Stage 4. Shortly after his promotion, he left the core due to real life issues, but rejoined the upcoming year on January 4th, 2015. His greatest assets are his skill in both gun-fighting and sword fighting. He thrives to get better and works hard for it. Now that he's a Vaktovian, he has higher standards and wants to improve in any way possible.
FusionBurst's theme is "Hockey Mask Jason" otherwise know as "Jason Voorhees" from the "Friday the 13th" films.
Quotes
"I exert my will to protect Vaktovia and destroy those who skirmish it's name".
"Those who oppose shall be guided through the valley of darkness, and never return from the voyage. [Y] Glory to Vaktovia! [Y]".
"I know I can achieve greatness, but that comes with the price of pain and time."