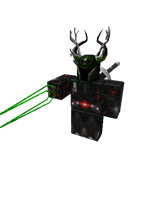 Erleuchtete, (his previous username being DimensionalMastrer), also known as 
Ademaro Varick
, is an Ex-Corporal of the Vaktovian Empire.  He is mostly referred to as "Dim" by his comrades.  He is considered to be a skilled and knowledgeable fighter as well as leader.  Although, many people have conflicted feelings over him due to his tendency to become overly angry over certain topics.
His account has been terminated from roblox for unknown reasons, and it is unknown if he is using any other account for roblox.
Quotes
"It is better to have tried and failed, than to have never tried at all."
"I'm back." - 11/16/2014
History
DimensionalMastrer joined the VAC in September of 2011.  He entered The Vaktovian Academy(version 2) February of 2012, which he was in until April 3 of 2012; on this day, he was accepted into the Vaktovian Empire.  He was promoted to Corporal on April 27 of 2013.  He permanently left the Vaktovian Empire on January 1st of 2014.