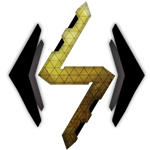 Electro Legion or 'EL' is a respected clan with almost 23,000 members under the lightning bolt, most of which are currently Recruits. The clan is led by Electrifying12 who is the commander in founder.
Overview
Electro Legion is a fairly skilled clan with a Plug Dj, Skype, and Excellent command system. The clan currently has 7 divisions, all of which are currently staffed.
VAK vs EL/CAT (Vaktovian Conquest)
In early 2015, EL and four other clans fought in a conflict know by some as the Vaktovian Conquest. However, three of the five involved clans refused to fight back and where quickly decimated by Vaktovians. Unlike those three clans, the Electro Legion was quick to accept the war and challenge the Vaktovian Empire. The war waged on for weeks with CAT, and the score remained almost even through out the war. The war itself came to a screeching halt with an anticlimactic tie, resulting in the lowering of morale amongst Vaktovian troops. Electro Legion was seen at the end of the war as the clan that did most of the heavy lifting as it won most of the raids for the score.