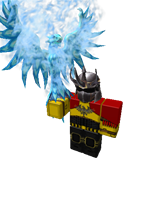 Creepybobthechicken
is a Coalition Veteran and a ex colonel in the Vaktovian Empire. He left the Empire in early 2011.
He joined Roblox 2nd march 2010.
He left Roblox in july 2013.
Recruited by Dologan (possibly) around 2010-2011
Raided R.A.T with DevilishPyro when he was a corporal and I was a Private (The raid was only us two with a few other unknowns)
Devilish and I formed a friendship from our raid and often defended the recruitment centre together.
Got promoted to Corporal after a successful raid (VAK wasn't very strict on skipping ranks at this point)
Met Vaktus for the first time at the Rec Centre and often spoke to him about suggestions and such.
Got promoted to Sergeant for unknown reasons (I can't remember why I was promoted, I think it was for a successful defence at Swampy)
Devilish was Captain by this point and still a trusted friend and ally, we often had personal discussions about suggestions and such since he owned the base still I told him about any issues with Admin and such.
I went inactive at this point for a month I believe and returned to the Empire still as a Sergeant and ready to serve better than I ever had.
I once again met DevilishPyro in the meeting room of Swampy and we conversed and I asked him about things I can do to become lieutenant and he told me the general tips and I told him everything he mentioned I had done multipe times or better.
He was very determined after that to get me promoted, by this point he was a Colonel and Colonels at this stage in the Empire had much more contact with Generals.
Kjet promoted me to Captain after the recommendation from Devilish and there I was an officer.'
That's the end of Chapter 1.