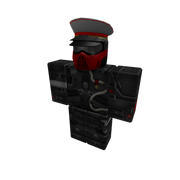 Private Levrak Kharnerus , his ROBLOX name being Blockkiller001, is an active and experienced veteran of the Vaktovian Empire. He joined the Vaktovian Cadets early 2011, and was accepted into VAK around July of the same year, becoming one of Vaktovia's greatest fighters. He is a Senior member of the Kharnerus family, run by BishoBlox.

Known for his tactical mind and excellent combat abilities, his skills include;
• Use of Guns (StA-53, StA-3, VC-32) 
• Swordmanship
• Building
• Some scripting

Levrak's favourite weapons are the VC-32, StA-3 and a sword, being used for long, medium and short range. He is known for his domination of Kaznan, being one of the few able to traverse and fight in the tricky terrain. With the introduction of the StA-53 as the only weapon at Vaktovian bases, he has quickly adjusted to the new RCL style of weaponry.
Though inactive for a few months, he has increased activity during Summer 2014 and is part of the Vaktovian Clan Battle group, BishoBloxxed. In recognition of his high activity and previous actions & commendations, he was promoted to Lieutenant along with other Sergeants on the 31/08/2014.

Block aided General Bektor frequently before his rise to the Vaktovian HICOM. Formerly his right hand man, Levrak aided Bektor in several in his Vaktovian-related endeavours, such as the running of the Vaktovian Empire First Recon Snipers. Both Levrak and Bektor were accepted into the Empire, Summer 2011, by General Duhspartan, and as such have both progressed considerably.
His overall aim is to become a Vaktovian Officer, however he is currently focusing on improving his combat skills and adjusting to SMO II.